Thanks… for checking out our little guitar building school here in Chicago. In an age where we do less and less with our hands, making anything seems more and more inviting, and what better project than building a guitar! In a city where there are a thousand places to get your fingernails done, here is a place where you can get them dirty!
Our Main Focus: Building steel string acoustic guitars! These are NOT guitars built from some kit or off the shelf parts. We start with the raw woods and work every aspect into a very respectable guitar.
What You'll Learn: As a student, you will learn how to bend sides, how to brace the top and back, how to carve a neck and how to properly set the neck, how to inlay details, how to fret, how to rout for and install a truss rod, how to build a bridge, how to fashion a nut and saddle… and on and on until you've built a complete guitar! We feel the information gained here will prove suitable for other types of instrument building (like electric guitars) as well as give a lifetime of reward and enjoyment. At the end of a 3 month session you will have built, with your own two hands, an acoustic guitar with it's very own voice… and you can sing along!
Our Philosophy: No theories and no conjecture! While these run rampant in the guitar building world, we will stick to the basics like how to bend a side and how you make a bridge. After you've built about 50 guitars yourself, then you're welcome to all the theories and conjecture you like. We'll cover all the topics from building your own forms to what finishes to use and everything in between, so in the end you'll have a hands on understanding of how to build. But through it all you'll never hear us say "…this is the only/right way to do so and so…". There are a million ways to look at all the different aspects to building, and we'll encourage you to find the way to build that works best for you! We want you to find your own voice as a builder!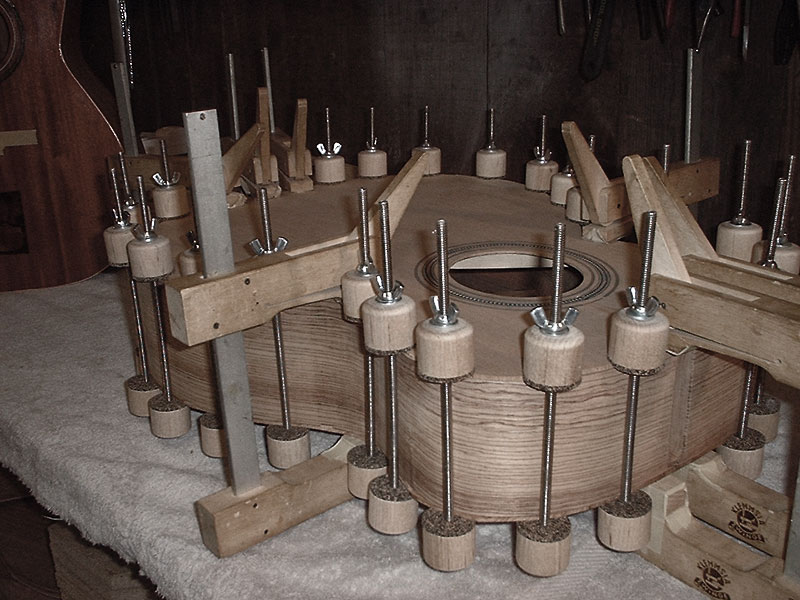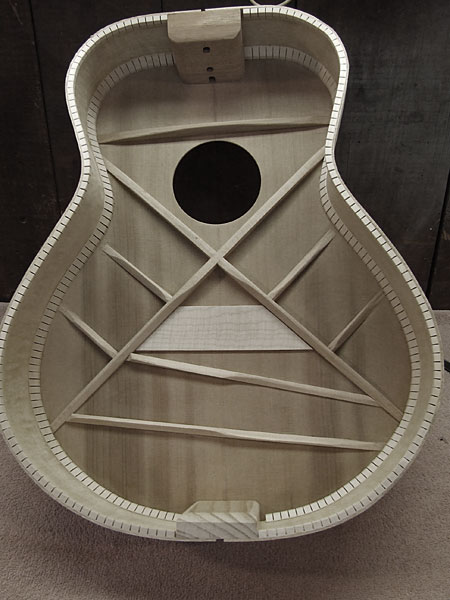 The Details: Total cost of the 3 month guitar building class is $3,800.00, with a $500 deposit to reserve a space in class. $2300 due upon first day of class. Remaining $1000 due within 15 days of start of class. If student takes longer than the 3 month to finish instrument, then an additional $100.00 per week charge will be added.
Additional Costs: Student is responsible for supplying their own materials which include top, back and side woods, neck blanks, fingerboard, truss rod, brace woods, tuners, etc. You should be prepared to spend somewhere between $400 and $600 for these materials.
All the necessary tools will be supplied during class, (we'll be using mostly hand tools with a few power tools here and there) we encourage you to purchase your own tools, tools you'll see and use in class we're sure you'll want to own.
Refund Policy: A full refund of the deposit is given if cancellation is no later than 2 weeks before the start of class. If you cancel less than 2 weeks prior to the start of class, we will refund $300 of deposit. If after class has begun, and you wish to cancel within the first 2 weeks, the $500 deposit is non-refundable.
Class Schedule: Three month sessions can begin at most any time to meet your schedule. We are now running sessions regularly during the year, so give us a call. We will only accept two to three students running sessions at a time, so book your lessons soon. We have flexible hours throughout the week and will meet your schedule needs.
For additional information call Bruce at 773-528-2426.
At present, our main focus is to serve the Chicago community, at this time we have no room and board facilities available.